ELEMENTARY RELIGIOUS EDUCATION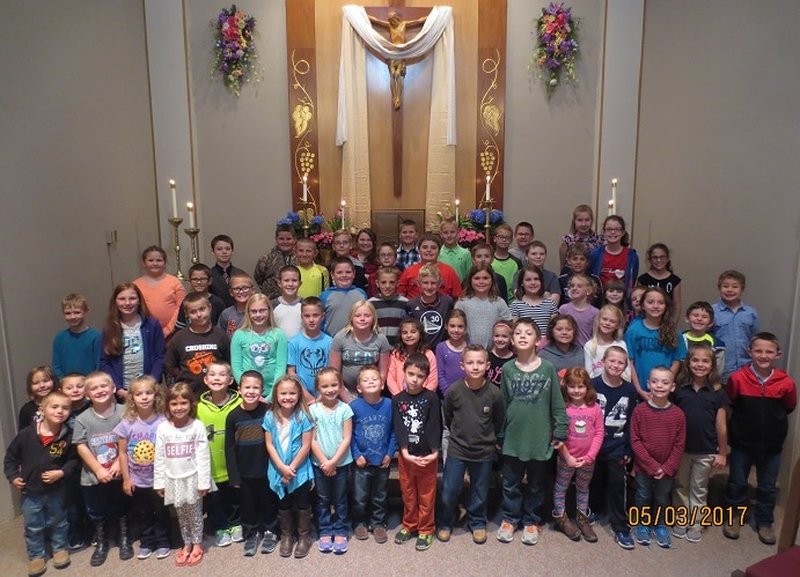 All students after Wednesday evening Mass and Crowning of Mary.
​
​Catholic traditions, values and service are at the heart of the elementary religion program at St. Maurice Church.
​Each week from mid-September to mid-May, our catechists create lessons that make faith "come alive" in our everyday living.


Elementary Religious Education Schedule
Preschool through Grade 5 meets Wednesdays, 6:45-8:30 PM
​
Feb. 7 Class
Feb. 14 Class -- Ash Wednesday: children will attend Mass at 7 PM with their class
Feb. 21 Class -- "Pennies for Posterity" begins. 5th Grade Assessment
Feb. 28 Class -- Lenten Penance Service for Grades 3,4,& 5 at 7 PM
Mar. 7 Class
Mar. 11 Sunday: Daylight Savings Time begins.
Mar. 14 Class
Mar. 21 JCD Spring Break -- NO CLASS unless it's a snow make-up day
Mar. 28 JCD Spring Break -- NO CLASS
Mar. 26-30 HOLY WEEK
Apr. 1 Easter Sunday -- Alleluia! Jesus has risen!
Apr. 4 Class -- last night for "Pennies" to be brought in
Apr. 11 Class
Apr. 18 Class -- "Pennies" treats for winning classes
Apr. 25 Class
May 2 Class -- 5th Grade Mass 7 PM, May Crowning of Mary, Special Friends recognized
May 9 Last class for school year: Attendance Awards Program in Church at 7:20 PM
May 16 End-of-Year Catechist meeting 7:00 PM

June 4-8 Summer Religion Week 6 PM - 8:30 PM each evening
June 10 First Communion Mass at 1:30 PM



The Parish Youth Committee provides a meal, at no charge, for the elementary students before Religious Ed classes on Wednesday evenings beginning at 6:15 PM.

MEAL SCHEDULE
​
Feb. 7 Meal
Feb. 14 No Meal because of Ash Wed. Mass
Feb. 21 Meal
Feb. 28 Meal
Mar. 7 Meal
Mar. 14 Meal
Mar. 21 No Meal -- JCD Spring Break
Mar. 28 No Meal -- JCD Spring Break
Apr. 4 Meal
Apr. 11 Meal
Apr. 18 Meal
Apr. 25 Last Meal served this school year
May 2 No Meal -- Hall set for Rummage Sale
May 9 No Meal - Last class


---
HIGH SCHOOL & JUNIOR HIGH RELIGIOUS EDUCATION
2017-2018 Second Semester Schedule
Grades 6 through 11 meeting on Sundays, 8:30 AM to 9:45 AM

January 7 First class
January 14 Class
January 21 Class, including Seniors
January 28 Class
February 4 Class
February 11 Class, including Seniors, 8th Grade Mass
February 14 Ash Wednesday
February 18 Class
February 25 Class, 11th Grade Mass, Youth to Oldenburg for Vigil Project
March 4 Class
March 11 Class, including Seniors, 7th & 9th Grade Mass
March 18 Class
March 25 No class -- Spring Break, Palm Sunday
April 1 No class -- Easter Sunday
April 8 Class, including Seniors
April 15 Class, 10th Grade mass
April 22 Class, Confirmation 2 PM at St. Mary's Greensburg
April 29 Class
May 6 Last Class, Attendance awards & Breakfast served, 6th Grade Mass
May 20 Senior/Graduation Mass
​
​Any questions, call Joyce Muckerheide: 812-363-5929